I recently reviewed North Port, Florida based The Hackish's promo E.P. and just could not get enough! Plagues of Man is the bands 2010 endeavor and firmly cements the three - piece as the bearer of Florida's grindcore crown. Featuring the talents of Sandra on vocals and lyrics, and Andrew on music and vocals, this six song treatise on grinding annihilation will take the listener looking for unbridled brutality unto the nether realms of sonic ecstasy! The disc begins with the musical onslaught of Bushwacker. A wall of sound instantly throws the listener into the pit and never lets up! Track two is Planetary Guillotine and is filled with some great groove-infused death. Next is Secret Lover, which is just brilliant and I love the stop part towards the end. Tarck four, Destruction is the stand out track of the album, at least for this listener. Filled with great riffs, and tempo-changes, this song is stuck in my head! Who would have thought that grind can have hooks? The Hackish prove that point without a doubt! Next is Coffin of Beliefs, and believe me when I say prepare to be buried by this tunes brutality. Last on the disc is Congregation Deceased which I believe is the most brutal on the album. Sandra really shows off her mastery of death vocalizations on this one, going from deep growls to screams and everything inbetween! The track listing for Plagues of Man is:
1. Bushwacker
2. Planetary Guillotine
3. Secret Lover
4. Destruction
5. Coffin of Beliefs
6. Congregation Deceased
The Hackish prove yet again that extreme metal is alive and well, and not going anywhere, anytime soon! Plagues of Man is a great representation of the genre in that it is sickly brutal, while able to maintain a song structure including hooks and grooving. This is a great song writing team that builds a dynamic and then adds to it. Great job and cannot wait to hear more! The grindcore torch has been passed, and The Hackish are running wide fucking open with it!
The Hackish can be found at:
www.facebook.com/thehackish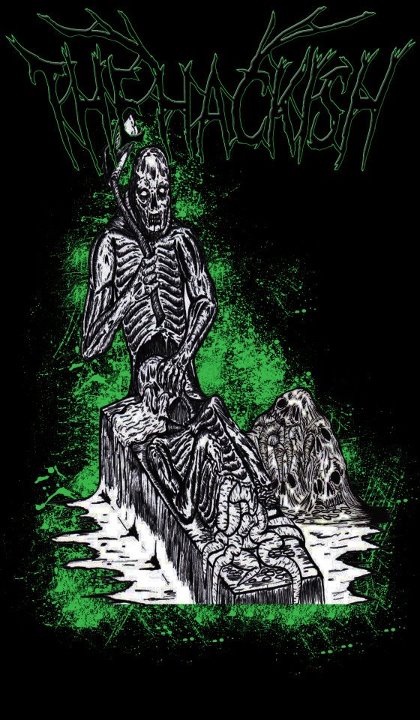 Bobby Weaver
August 8th, 2012
scrolling="no" frameborder="0"
style="border:none; width:450px; height:80px">