REVERENCE
WHEN DARKNESS CALLS
RAZAR ICE RECORDS
2012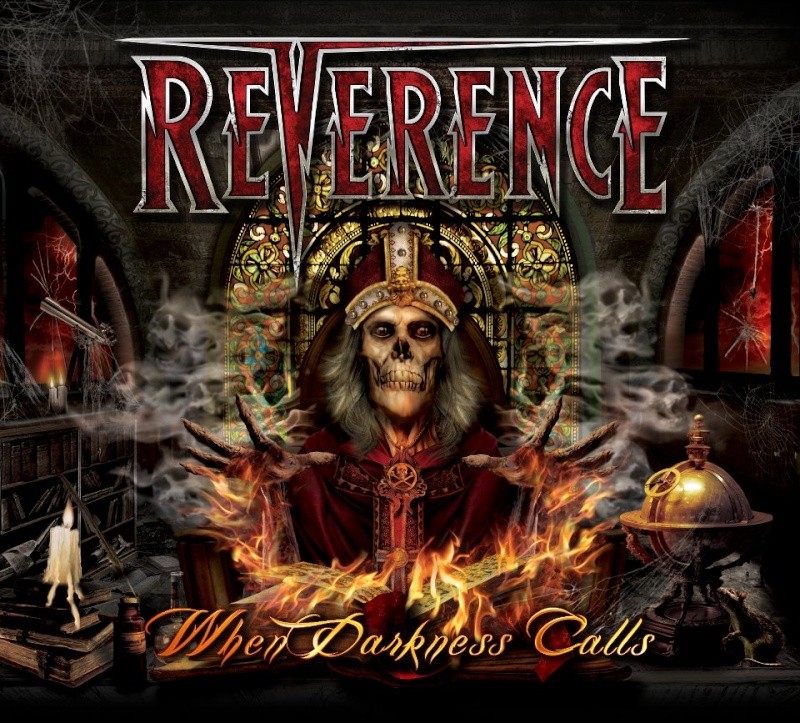 Like a great phoenix of old-school metal, Reverence serves up "When Darkness Calls" the bands 2012 release on Razar Ice Records. When Darkness Calls is an eleven song feast of pure, unadultered metal in its truest form, mixing old-school and contemporary power metal in a way that will make the listener instantly throw their horns high into the air! Reverence features the talents of Todd Michael Hall (ex-Jack Starr's Burning Starr) on vocals, Bryan Holland (ex-Tokyo Blade) on guitar, Pete Rossi on guitar, Ned Meloni (ex-Jack Starr's Burning Starr) on bass, and Steve "Doc Killdrums" Wacholz (ex-Savatage and Crimson Glory) on drums. Reverence is an all star band that spotlights it's talents on "When Drakness Call", and leaves no doubt that they belong in the upper echelon of the metal heirarchy. Track one on the album is the title track, When Darkness Calls. The song opens with a nice acoustic piece, then breaks wide open. upon hearing the verse riff, I instantly fell in love with the guitar tone!! A brutally grinding guitar sound that also has intense clarity and focus. Todd's vocals are very intense, yet extremely melodic and fits within the landscape that the band creates very well! The rhythm section...wow! Ned's basslines are spot on, and he compliments the guitars well while maintaining the pace of Doc's insane drumming. The track listing for "When Darkness Calls" is:
1. When Darkness Calls
2. Bleed For Me
3. Phantom Road
4. Devil In Disguise
5. Too Late
6. Gatekeeper
7. The Price You Pay
8. Monster
9. Revolution Rising
10. After The Leaves Have Fallen
11. Vengeance Is Mine

"When Darkness Calls" is a metal album filled with hook laden, heavy hitting songs that leaves the listener wanting more. The album absolutely jams from beginning to end and showcases the professionality and the talented musicianship of Reverence. Friends, if you are looking for some powerfully melodic metal, then "When Darkness Calls" needs to be in your collection! Crank it to 11 and throw those horns up!!!
Reverence can be found at the following:
Official
http://www.reverencemetal.com
Myspace
http://www.myspace.com/reverencemetal
Twitter
http://twitter.com/ReverenceMetal
Facebook
http://www.facebook.com/Reverencemetal
Youtube
http://www.youtube.com/ReverenceOfficial
Reverbnation
http://www.reverbnation.com/reverenceofficial
Bobby Weaver
November 27th, 2012
scrolling="no" frameborder="0"
style="border:none; width:450px; height:80px">