HATRIOT
HEROES OF ORIGIN
Massacre Records
2013

Metalheads rejoice! Steve "Zetro" Souza has done it again! You know him from his tenure with thrash pioneers Exodus, and also Dublin Death Patrol, and now he explodes upon the scene with his new band Hatriot. Featuring the talents of Zetro on vocals, Kosta V. on guitars, Miguel Esparza on guitars, Nick Souza on bass, and Cody Souza on drums Hatriot shows the metal world that true metalheads never quit! Heroes of Origin is a ten track massacre of mayhem in the style that can only come from the bay area, and truly showcases the band's unique blend of old-school meets new-school. Heroes of Origin opens with the song "Suicide Run" and HOLY SHIT is it a crushing elbow to the face! Pure thrashing madness from beginning to end! Track two is "Weapons of Class Destruction" which is a politically fueled dissertation on the current environment of our government, and slams that idea home with some great groove-riffing! "Murder American Style" is track three, and damn this disc just keeps getting better and better! The opening guitar lick is fucking outstanding, then Zetro kicks in with that scream! Zetro's voice has NEVER sounded better...as the old saying goes, like a fine wine, just gets better with age! Damn Kosta and Miguel on those trade-off solo's really kill it, hell the WHOLE BAND KILLS IT! Nick has his work cut out just trying to keep up with those two guitarists, which he does well, and even goes beyond with some absolutely amazing bass lines. Cody, well what can I say...that dude is a BEAST on the drums! Great song guys! Next on the disc is "Blood Stained Wings" and starts with another killer riff which leads into more of that great groove-oriented thrash! Awesome breakdowns mixed with Zetro's voice will make this tune an instant classic. "The Violent Times of My Dark Passenger" is track five and is a rhythmic assault from beginning to end. I love the guitar tones, very brutal not to mention the harmonized section in the solo section! Track Six is "Globacidal" and all I can say is HOLY FUCK on Cody's drumming in the intro. This tune is a hook laden moshfest, showcasing some truly magnificent musicianship all around. Next is "And Your Children To Be Damned" which is another slamming tune...I don't know how these guys do it but damn...each song builds on the next! "The Mechanics of Annihilation" follows and keeps the momentum going! Hatriot demands that you get in the pit...do it or die! Track Nine , "Shadows of the Buried" is an eerily haunting tune that takes the listener to the graveyard of the mind, then puts the hooks in and drags you along screaming! Awesome chorus on this tune also! The title track, "Heroes of Origin" is the final track on the album. This song folks is how thrash is supposed to sound! Speed, intensity, precision...Hatriot absolutely brings it!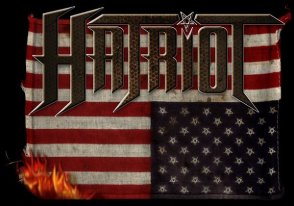 Track listing for Heroes of Origin:
1. Suicide Run
2. Weapons of Class Destruction
3. Murder American Style
4. Blood Stained Wing
5. The Violent Times of my Dark Passenger
6. Globacidal
7. And Your Children to be Damned
8. The Mechanics of Annihilation
9. Shadows of the Buried
10. Heroes of Origin
Hatriot brings the heat on this album and shows everyone that metal is still going strong. If this disc doesn't make you want to pit, then you need to bring your candy ass home! Folks, you definitely NEED TO GET THIS! Heroes of origin, in my opinion is the metal album of the year, and the year has just begun! Great job guys, two horns up!
Bobby Weaver
Feb. 11th, 2013