RAVEN LORD
DESCENT TO THE UNDERWORLD
MAUSOLEUM RECORDS
2013
True metallers, raise those horns into the air as Ravenlord brings you their debut outing, Descent to the Underworld! Raven Lord features an all-star ensemble that has the musical prowess to catapult the genre back into the spotlight, and Descent to the Underworld is the testament to that fact. Raven Lord is made up of Csaba Zveken (Killing Machine) on vocals, Joe Stump (Holy Hell / Reign of Terror) on lead and rhythm guitars, George Karafotis (Vermillion Days) on rhythm guitars, Jamie Mallender (Tony Martin) on bass, Alessandro Duo (Voodoo Highway) on keyboard, and Lawrence "Larry" Paterson (Blaze Bayley) on drums, the sextet truly delivers their brand of metal with intensity, focus, and finesse. Musicianship on this album is exemplary as Descent to the Underworld briefly ventures into the realms of prog, power, and even a bit of thrash, yet stays true to the band's core sound. The track listing for Descent to the Underworld is:
1. The Rebel
2. Attila the Hun
3. Let the Show Go On
4. Seal of the Cross
5. Promised Land
6. Settle the Score
7. Black Friar
8. World out of Steel
9. Revelation
10. Metal Knights
11. Sun God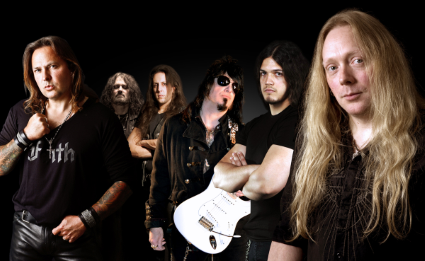 Descent to the Underworld paints a landscape that takes the listener to the lands of swords, and sorcery in the vein of Dio meets Yngwie, but with a sound that is completely unique. Metalheads, this album is the total package! Everything about Descent to the Underworld screams professionalism, from the music right down to the packaging. Recorded and mixed by famed engineer Fredrik Nordstrom (In Flames, Arch Enemy, Opeth) and mastered by uber-guru Maor Appelbaum (Rob Halford, Fight, Cynic, Roy Z) the disc sounds absolutely amazing from beginning to end. Ravenlord clings to many of metal's cliche's that most bands today shy away from, which in this listeners ears is very refreshing to hear...not from a nostalgic standpoint, but from a place that yearns to hear these anthemic themes yet again. Kudo's to Ravenlord, because if this debut is any inclination towards future endeavors, than this listener can't wait to see what is yet to come!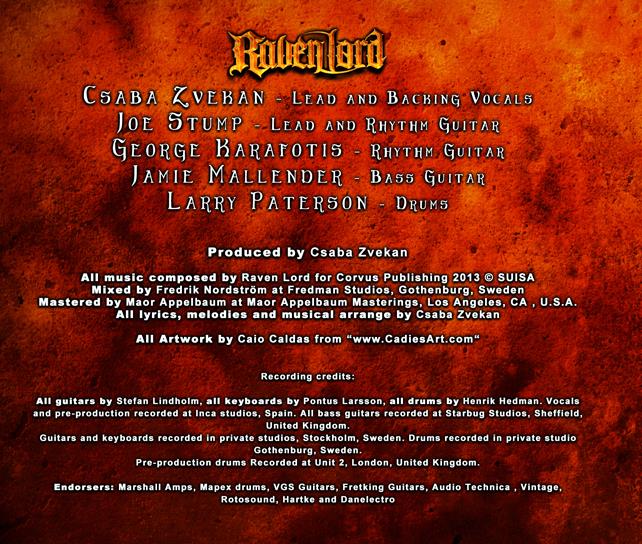 You can find Raven Lord, and Descent to the Underworld at the following links:
www.raven-lord.com
www.facebook.com/ravenlordmusic
www.rockngrowl.com
www.mausoleum-records.com
Bobby Weaver
Feb. 20th, 2013