Excommunicated

Exposing hypocrisy!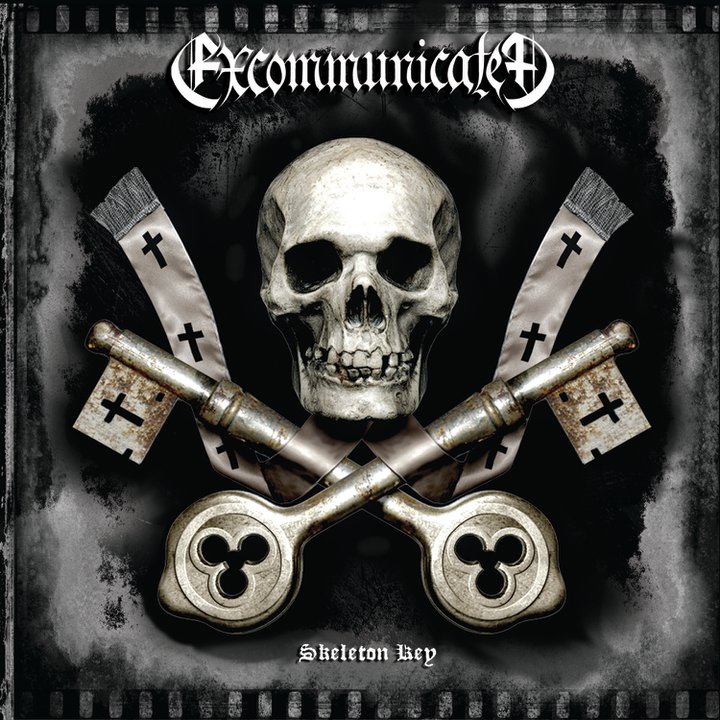 Formed in 2010, this band has made a big noise with the release of their debut outing "Skeleton Key". Excommunicated is fronted by vocalist Chad Kelly, and features the talents of Jason McIntyre on guitar, Jonathan Joubert on bass, and David Kinkade on drums. "Skeleton Key" also has some guest appearances by Andy Laroque (King Diamond), Vincent Crowley (Acheron), and Jayson Ramsey (Suture). This band captures a unique sound mixing elements of Black Metal and Death Metal creating an ominous atmosphere filled with brutality yet very melodic at the same time. Metalstorm Magazine recently caught up with Chad and Jason to find out what influenced the sound, themes and lyrics, as well as what we can expect in future outings.
1. (MSM) Hails Chad and Jason! Thanks for taking the time to speak with us! First off, you both have been in other bands for quite some time. How did Excommunicated materialize?
(Chad) I guess I'd say with the demise of all of our previous projects, Despondency, Suture, and Catholicon (in that order). At a certain juncture, I think the timing was right when all 3 of us were in touch with each other and it seemed right at that time where (I felt) like we were the guys who still wanted to do something along the lines of the music we first came up with, where others had moved on or stopped. Jason and I had talked about doing a project for some time, not long after he'd put down some guest lead work on the final Catholicon album around late 2008 or early 2009. When Cath ended at the end of 09, we talked about it more; but in early 2010 Jonathan contacted each of us separately to see about re-tooling some early Catholicon or Suture material with a session drummer by the name of David Kinkade who was at that time a sort of live-in drummer at Jonathan's studio in Lafayette (Prophet Studio). I declined this offer almost immediately, but went down to Lafayette with Jason to meet David and Jonathan anyway, while they discussed working on the Suture material. That didn't work out either; but we wanted to work with David on something. Out of that came the idea to put together an album of new material, and that's how it started. Jason and Jonathan both wrote music for the record (about 5 tracks each), and I finished the lyrics for a long-shelved concept record called "Skeleton Key", that I'd initially started working on in 2005 as a conceptual sequel to the second Catholicon album, "Death Throes". It pretty much started overnight; but then took a year to realize a finished record.
2. (MSM) When I first heard the album I was completely blown away! I knew it would be a good album, but damn did you guys really step up on this! What was the writing process like and how did the lyrical content come about?
(Chad) Well, as I say, the 'skeleton' of Skeleton Key was saved from 2005. I had to do alot more work to finish the lyrics as well as the book research to make it accurate (yes, I went through a dozen books as well as about 40 hours of internet and library research in the prep work for the album). I'll let Jason comment on the songwriting process.
(Chad Kelly - Excommunicated)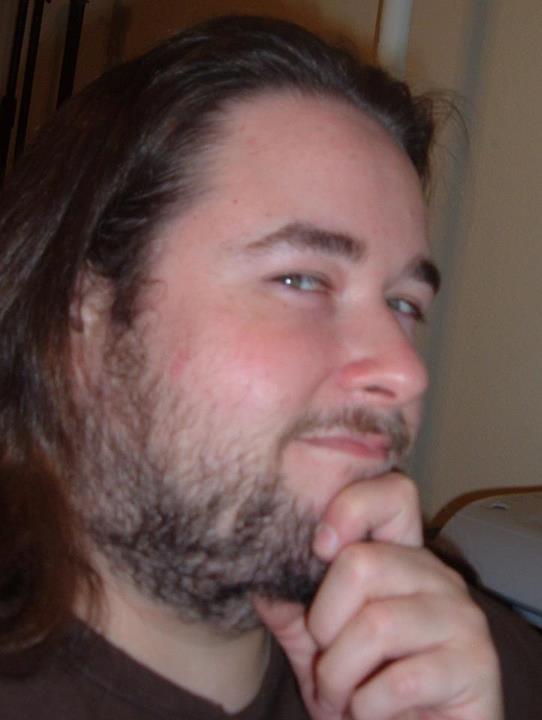 (Jason)As far as the songs that I contributed, they were pretty much wrote about a month before we started recording the drums but when the drum tracks were complete I had to make some adjustments here and there to my riffs and structures to make them fit alittle better. The track " The Incorruptables " ( which was originally called Burning Eclipse) was a song I wrote along time ago with Jayson Ramsay ( Suture ) while we were writing songs for the Suture- Skeletal Vortex cd, it was just a fun black metal influenced song. I let Chad hear it and he loved it so we decided to use it for the Excommunicated. ..
(J-Mac - Excommunicated)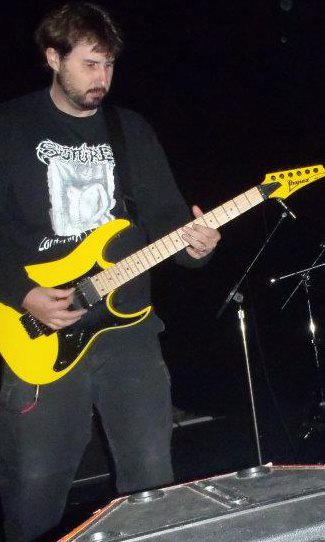 3. (MSM) Jason, the intro to the song titled "The Abandonment of Hope" is an outstanding instrumental piece. What did you draw upon in writing the composition, and also what brought about the solo? Chad, what are your thoughts on this and did you have any input?
(Jason) That track was kind of an accident really, Chad and I were trying to find a good solo tone for the songs I wrote on the cd and we ran across that really cool clean effect with the synth behind the guitar on one of Chads pre-amps. I just started playing around with it and I must have played somthing Chad Liked ...so we recorded the main riff and after that I thought about adding a solo ontop of it...I layed one down on the first take and was not happy with it, so I told Chad I was going to go home and rewrite it...he kept insisting that we leave the original one.....so we did.
4. Where did you guys record "Skeleton Key" and what was the process like?
(Chad) Drums were recorded at Prophet Studios in Carencro (just outside Lafayette), the bulk of everything else was done at my house, where I have a very modest home setup. Andy LaRocque's lead was done at Sonic Train in Svargsburg, Swden (Andy's studio), and Vincent's guest vocal was done at a home studio in Ohio which is unlisted because Vincent didn't want to make mention of where it was done. It was mixed at my place, and mastered by Maor Appelbaum (Cynic, Sepultura, Believer, Anacrusis, Therion, Halford, you name it), and final duplication masters were prepped at my place from Appelbaum's mastered tracks. The process was grueling, I can tell you that. haha
(Jason) It was a looooong process, Many long nights tracking guitars. Chad and I get along great so it was a blast..we are both perfectionist so we scrutinized everything...maybe some times to much...but we didnt want to put out anything we were'nt 110% happy with. Im very proud of what we created. Its Heavy, Mean and it Offensive..
5. I know that David Kinkade has a pretty healthy resume for a drummer. How was working with him, and will he be back on the next album?
(Chad) David was a real pro and we couldn't (and truthfully wouldn't) have ever done it without him. He was fun to work with, very accommodating. He even helped us out last minute in the arrangement and tempo-mapping of one of the last songs that we were under the gun to finish (Minutes Of the Corpse Trials); he had a good understanding of what we were going for and knew we what we wanted: solid but not over-doing it. He even has an un-credited backing vocal spot along with Jayson Ramsay in the song "When Death Claims..." He has told us the Excom record was one of his favorite things he's done, which is something for a guy who has played with Malevolent Creation, Arsis, Dimmu Borgir, Borknagar, and the now Soulfly, and even sported his Excom shirts on the first leg of his first tour with Soulfly. That being said, Dave has moved back up north and is going to be on the road or in the studio with Max Cavalera for the foreseeable future, and so we understandably have moved on. We have some very good talent lined up to help with session drums on the next record(s). I'm excited about it; but don't want to announce quite yet who that is.
6. How did you manage to get the guest stars on the album, and what was the experience like?
(Chad) Fun, and also killed me with anticipation; because it took a long time to schedule things and make it happen. I have known Vincent Crowley for 20 years; he is a true satanic metal warrior from the oldschool and the earliest days of death/black metal and still going strong. He was the first to agree and the first to submit his part to the record. Andy was pretty busy but thankfully found some time after the Xmas holidays of 2010 to get it knocked out. I actually got in touch with Andy really incidentally a year or two prior; really just wrote him to thank him for the incredible job he did on the King Diamond re-masters, and we started talking after that. I finally had the guts to just ask, and he agreed to do it (to my surprise!). But from that point, I had to wait a year for him to find the time to follow through.
7. How was working with Maor Appelbaum? He did a really great job with mastering the album, but the mix was also inredible! What equipment was used in the studio?
(Chad) Thanks, Maor is a great mastering engineer. There are the kind who just take your money and send you back something, then there are the kind who actually care enough to call you and make you remix the record 3 times, to push you to do it better so that it can really be special. Maor is that kind, and I learned a lot from that experience. It made me a better mix engineer. Maor masters in the analog domain, which is one of the reasons I chose him. He uses almost all real high end analog hardware, and doesn't play the crushing digital loudness war bullshit that some people do. He uses real hardware and tries to work with subtlety, adding warmth and impact; but retaining cleanliness and dynamics and tone. What won me over was the work he did for Anacrusis, because that new double CD that they recorded themselves sounds so damn good. Warm, full, clean, open, very dynamic; punchy and loud but not overdone. Very tasteful. I'd already been impressed with the live Therion album, the Fight and Halford albums, etc. This is a guy you can pull stuff off your shelf that he did; he not only knows the metal genre, it's almost all he does.
8. Will Excommunicated be going on the road or will it be strictly a studio band?
(Chad) I'd love to do festival shows. We'll have to see though. So many things are up in the air right now. What I do know for certain is that there will be a new record, and maybe an EP or single besides that.
(Jason) I'm dying to play a show with Excommunicated , I think it would be awesome. We have already threw around some ideas about stage props and imagery already if we did decide to start doing shows, Just waiting for the right time everybody is busy for a while.
9. Have record sales been as you had hoped, and where can fans find the album?
(Chad) It's been about what I've expected. So-so. People don't buy hard copy music anymore like they used to. We just put the record on iTunes/Amazon/etc. in January because we wanted to give the CD a head start. I haven't seen any of those figured yet, too early to say. But I know this is something that will have to build over time. The first CD just proved we are still all alive and serious. The next one will build upon what was created there.
(Jason) I have a couple for sale : 6.00 suturejasonmc@hotmail.com
10. What equipment was used in the recording process, instruments, recording gear,etc? Do you feel that you have achieved the sounds in the studio that you wanted?
(Chad) My setup is constantly changing; but the heart of the system is surprising pretty dated. I have a lot of rack gear and mics and stuff that are frankly a lot older than what most guys would have (vintage 421's, 441's, RE20's, SM7a's, old 57's, old Rode condensers, etc) but I've learned how to use them well. I use an RME PCI card master digital interface that hasn't been made in years, it's nearly a decade old; and it is run by fiber-optic, SPDIF, and coax into a row of 3 units that provide me 24 channels of A/D and D/A conversion, and those units are over ten years old. But I meticulously maintain and work on my equipment to keep it up. I do have a master converter and word clock unit by Burl Audio that is only 4 years old, and that is sort of my gold channels, first 2 channels into the system. Of course, I've built up a solid collection of mics, preamps, compressors, hardware, baffles, and other tools over the years.
Yeah, we got for the most part what we wanted out of the record. We wanted an early 90's death metal album, before things became so artistically dry and stratified into different sub-genre's (brutal DM, technical DM, orchestral black metal, necro black metal, bla bla). Morgoth 'Cursed' was something we referenced alot in this process, and Resurrection, early Morbid Angel and Deicide, Amorphis, Benediction, etc. Nothing much past 1992.
(Jason)I cant compete with Chads set up but I'll try..... Ibanez rg 7 string, Ibanez rg350, black no name guitar strap, clayton picks, D'addario strings and CK special addition guitar cables !
11. If given the opportunity, who would you like to the share the stage with...indidually and as a band?
(Chad) oh, man, I'd have to go back in time to answer that question. Bands around today? Napalm Death would be awesome. They're one of the last of the old gods who are still incredible. Along those lines, maybe Goreaphobia or Gravehill?
(Jason) Marduk, Paradise Lost or Atrocity , to many to name really...Type-o Negative would have been the ultimate band for me though..RIP: Peter
12. Who were some of your influences musically that developed the musicians that you are today?
(Chad) oh, too much to mention; but King Diamond, Mercyful Fate, Venom, Samael, Paradise Lost, Entombed, Obituary, Carcass, Coven, Samhain... that's a good start.
(Jason) KISS, Ratt, George Lynch, Death, Pestilence, Napalm Death, Cannibal Corpse, Suffocation,Exhorder,Entombed,Cancer, Gorguts, Type O negative I could go on and on....but those are the main ones
13. My favorite song on this album is "Christ's Sword" although it is extremely difficult choosing just one from this disc! Where did you find the knights prayer at the beginning and what are your thoughts on Andy LaRoque's performance?
(Chad) Thanks, firstly. Most of the lyrics and some of the references for that song came from a book called The Monks Of War by Desmond Seward. That is a pretty dry read but just amazingly lays out the history of about 1000 years of ridiculous religious military violence. One of the prayers used in that song is from the induction into the Knights Templar, another is from the Teutonic Knights.
14. I know that when I lived in Louisiana, the main underground scene was in New Orleans and Baton Rouge having a much smaller one. What are your thoughts on the rise and fall of local scenes? Do you think that it's due to lack of venues, interest or something else?
(Chad) that's a big part of it; but I honestly don't pay much attention to the scene or whether there is one or not. I'm pretty anti-social anyway.
(Jason) Bobby I agree with chad, I think its the lack of venues, but also the lack of intrest in extreme music in general ...dont get me wrong there are some people that come out to shows and support the local bands but its a very small number...at one time Baton Rouge never gave Death metal/ black metal bands a chance...I mean with Suture we had to go outta state to play shows, I think we played BR twice in our exsistence...which is a shame...we felt more welcomed in Mississippi and Texas than our own home town.
15. Speaking of the scene there, are there any noteworthy performing bands? I've checked out Zombie Legion, and Necrotic Priapism which both are sick as hell, what others can you tell us about?
(Chad) From Louisiana? Oh man, I have no idea. Slime In the Current put out a good album, obviously the Suture stuff that's coming out later this year is going to kick ass. There is a newer generation of black metal and death metal bands coming out of Baton Rouge; I'm embarrassed to say I don't know any of them really well so I can't really comment on them. In New Orleans, our old friend and metal warrior Bobby Bergeron (Paranoize) is finally playing again with his band A Hanging, and they are great New Orleans metal.
(Jason) Theres a band called Blessed be the Wretched thats pretty sick, a perverted punk/rock/easy listening group of sickos going by the name of Peckernut are pretty entertaining.....You should also check out this band called Suture, pretty good stuff....heeheheee
16. Again thank you for taking the time to speak with me! Is there anything else that you would like our readers to know?
(Chad) We will have a new single out as a free release early this year, a new full length album out in 2013, and in the meanwhile be on the lookout for the retooled killer re-worked versions of both classic Suture albums out this year on Soul Flesh Collector Records out of Russia, and a new Suture EP out on Inherited Suffering out of Russia, get all the re-mixed/re-mastered/re-dux versions of the 4 classic Catholicon albums now available on iTunes, and last but not least hopefully this year will see the release of both albums by Jonathan's longstanding masterwork project, Psychometry. You'll be blown away by that. I'm also working on a side project record with Jonathan and original Despondency/Into Another Sun drummer Kristian Hale that I think will be killer. That comes out this year also. Busy times for old dudes like us. haha
(Jason) Suture Skeletal Vortex Re-issue out on Soulflesh Collector records this springs visit our site sfor more info or send me an email..know about it! Stay Brutal !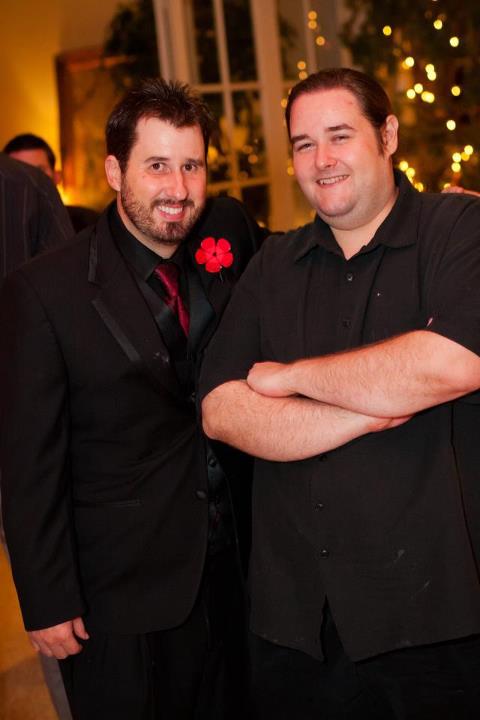 suturejasonmc@hotmail.com
www.myspace.com/suture
www.reverbnation.com/suturedeathmetal.
https://www.facebook.com/pages/Excommunicated
Check out Excommunicated's new album "Skeleton Key" today and prepare to have your head smashed in!
Bobby Weaver
January 31th 2011