Wormholedeath and Spinal Records presents:
Age Of Torment sign worldwide distribution deal!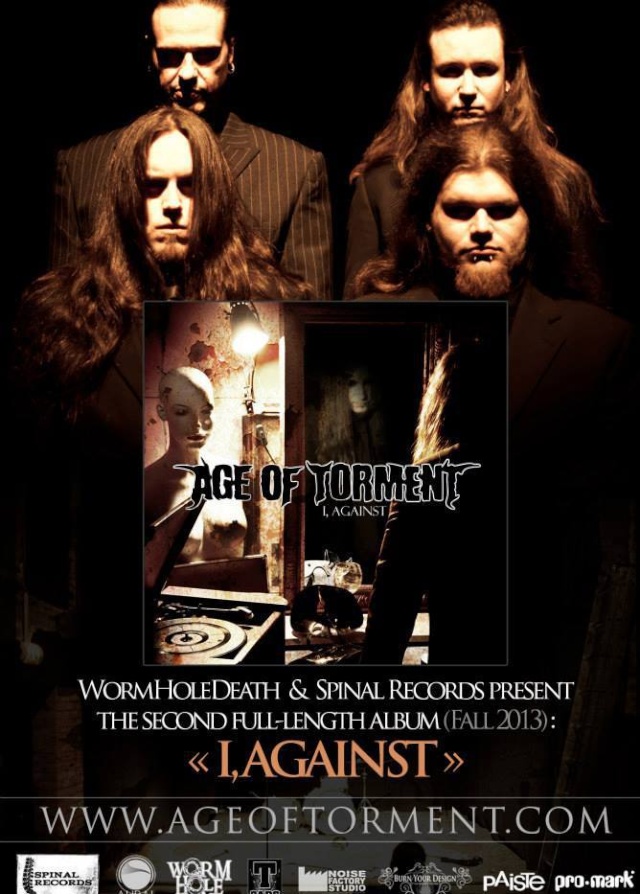 Wormholedeath will distribute and market the new album from Belgian Modern Metal Combo AGE OF TORMENT titled "I Against" worldwide excluding benelux wich will be out via Exclusively Spinal Records. Release date is set for early autumn 2013.

You can stream the album preview here and here

The band stated:

"We're proud and pleased to announce we're working with Wormholedeath & Spinal records (BENELUX only) for the release of our new album Entitled" I Against ", follow-up of our debute full-length" Dying Breed Reborn " . We spent three years composing and arranging this new album. It is a true product of dedication and chemistry between all of us in the band, and we did not want to give it away to some careless sharks .. It's hard to find dedicated people who still believe in the scene and handle Their signed bands without sparing effort. We had several offers to and discussions with several labels, but going into business with WHD was an easy and logical choice. AGE OF TORMENT & WHD speak the same language & look into the same direction. This was the most adequate choice to make and we're looking forward to what the future might behold."
Reference links:
https://www.facebook.com/pages/Age-Of-Torment/121521005667
http://ageoftorment.com
https://www.facebook.com/pages/Spinal-Records/296542940471786
http://www.spinalrecords.net
http://www.wormholedeath.com
___________________________________________________________________________
___________________________________________________________________________



Claymords Unleash New Music Video
For The Song "Method Of Lies"
Norwegian death / black metal combo Claymords just released a new music video for the song "Method of lies" taken from Their new album "Scum of the earth" that will be released by Wormholedeath During the next few months.
The band stated: "Method Of Lies is the second video from the SCUM OF THE EARTH album. Its one of the faster songs Claymords. It's a song about how the government sometimes hide the truth to protect the people."
Please check it out, it's killer!



Links for the band:
http://facebook.com/claymords
http://myspace.com/claymordskill
http://youtu.be/rWnQV0yK1no
http://itunes.apple.com/no/artist/claymords/id366504021



Source: Wormholedeath Records and Film Productions
Part of Aural Music Group
http://www.wormholedeath.com
http://www.wormholedeath.jp
http://www.facebook.com/#/pages/WormHoleDeath-Dreamcell-11/221968197836580
http://www.reverbnation.com/wormholedeathdreamcell11